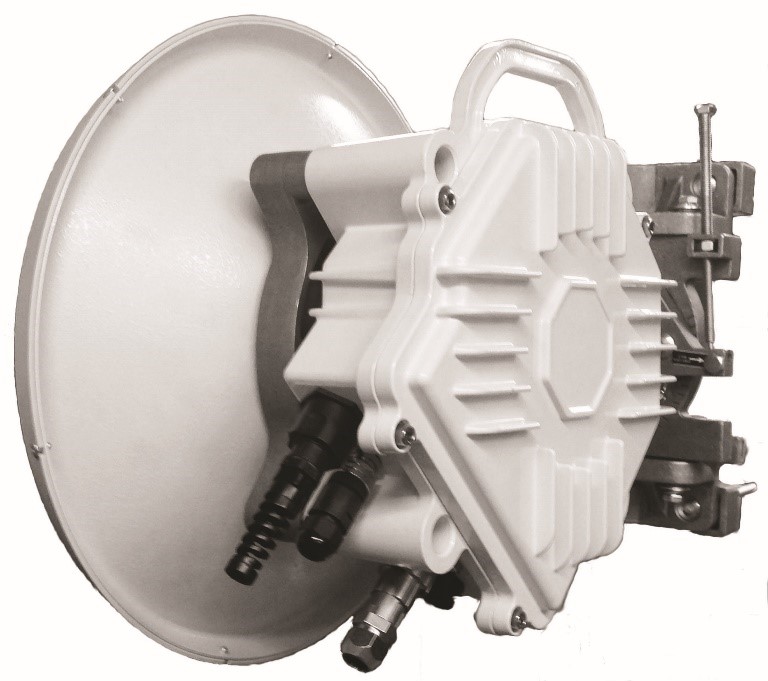 In response to market demand for ultra-wide broadband communication equipment, ELVA-1 offers two series of 10 Gigabit Ethernet radio links: PPC-10G and PPC-10G-HP.
ELVA-1 produces full-duplex 10Gbps Series of Q-band (40.5-43.5GHz) and E-band (71-76/81-86GHz) mm-wave radio bridges. Main feature of new series consists in possibility to adapt its data transmission speed to the current weather conditions.
PPC-10G and PPC-10G-HP supports Adaptive Code and Modulation (ACM) in which changers of coding rate and modulation are set in real time, based on the link conditions. This feature enables to increase radio link availability.

When the link`s SNR (Signal to Noise Ratio) is high (during good weather conditions), operation at full capacity is enabled, reaching the maximum speed of 10Gbps. In case that the link`s SNR drops significantly (during heavy rain), the channel throughput will be reduced.

PPC-10G-HP provides higher output power (24.7 dBm/300 mW), and ensures reliable throughput over longer distances with high percentage of availability

Main Features:

• Frequency band: 71-76/81-86 GHz, 40.5-43.5GHz
• High output power – 24.7 dBm (300 mW)
• SNMP v.1; v.2; v.3; MIB-II and DOK Enterprise MIB; WEB
• True Full Duplex Operation
• Hitless adaptive bandwidth, coding and modulation
• IEEE 1588v2, SyncE
• Secure communication due inability to intercept the laser-like beam transmission at free air
• Solid reliability with Fiber-like Performance
• Easily installed, zero-footprint
• Compact Cassegrain type antennas
• Quasi-optical (laser-like) propagation of millimeter wave emission
• EMI interference free

Application:
• 4G/LTE/WiMAX backhaul for access and aggregation
• "Last Mile" fiber extension for enterprises
• Temporary high capacity links for disaster recovery
• LAN/WAN extensions for private/enterprise networks
Specification
Frequency range

40.5-43.5GHz (Q-band)
71-76/81-86GHz (E-band)

Throughput

up to 7.2Gbps Full duplex




up to 10Gbps Full duplex



Max distance with 2ft antennas
in clear sky
up to 20km (12 miles)
up to 20km (12 miles)

Antenna gain 1ft/2ft

38/44dBi
45/51dBi

DC power

36-60V
36-60V

Transmitter power consumption

35W
35W
PPC-10G-HP Datasheet (pdf, 1M)